Bimmerfest 2017 Rundown
June 14, 2017
Bimmerfest 2017 at Auto Club Speedway on June 3rd – 4th turned out to be a spectacular event for celebrating BMW. What an amazing display of the finest, rarest and most modified BMWs in the world.
Celebrating 18 years of Bimmerfest West, the event was filled with activities all over the Auto Club Speedway. There were road course driving events to battle of the bimmers. There were over 100 vendors participating in this year's event on vendor row where BBS was located with a spectacular display of cars and wheels.
BBS was without a doubt the most prominently visible and favorite wheel brand for BMWs on display at most vendor booths.
Prominent manufacturers like KW Automotive Suspensions, Dinan Engineering, Parts Score, Motul, Airlift, Moton Suspension, Ground Control Suspension Systems, Borla, BMW CCA and Bilstein all had vehicles on display with BBS wheels.
There were also hundreds of cars on BBS wheels in the corrals and on the track.
The highlights of the BBS booth centered around the cars and wheels we had on display along with the introduction of BBS swag. For the first time since coming to Bimmerfest we were able to feature our new apparel line of BBS T-shirts, polo shirts, hats and license plates for sale. We gave away hundreds of stickers and completely had fun with all the folks that stopped by to visit us.
We had the pleasure of displaying Shane Oh's Laguna Seca Blue F80 M3 on 20" Diamond Black LM wheels, Felix Lee's Silverstone Metallic F80 M3 sporting 20" Gold with polished lip RT88 wheels and Greg Silva's Mineral Gray Metallic F82 M4 on 19" Satin Black FI-R. Greg's F82 competed in the Toyo Tires Battle of the Bimmers in Modified M and took home the third place trophy.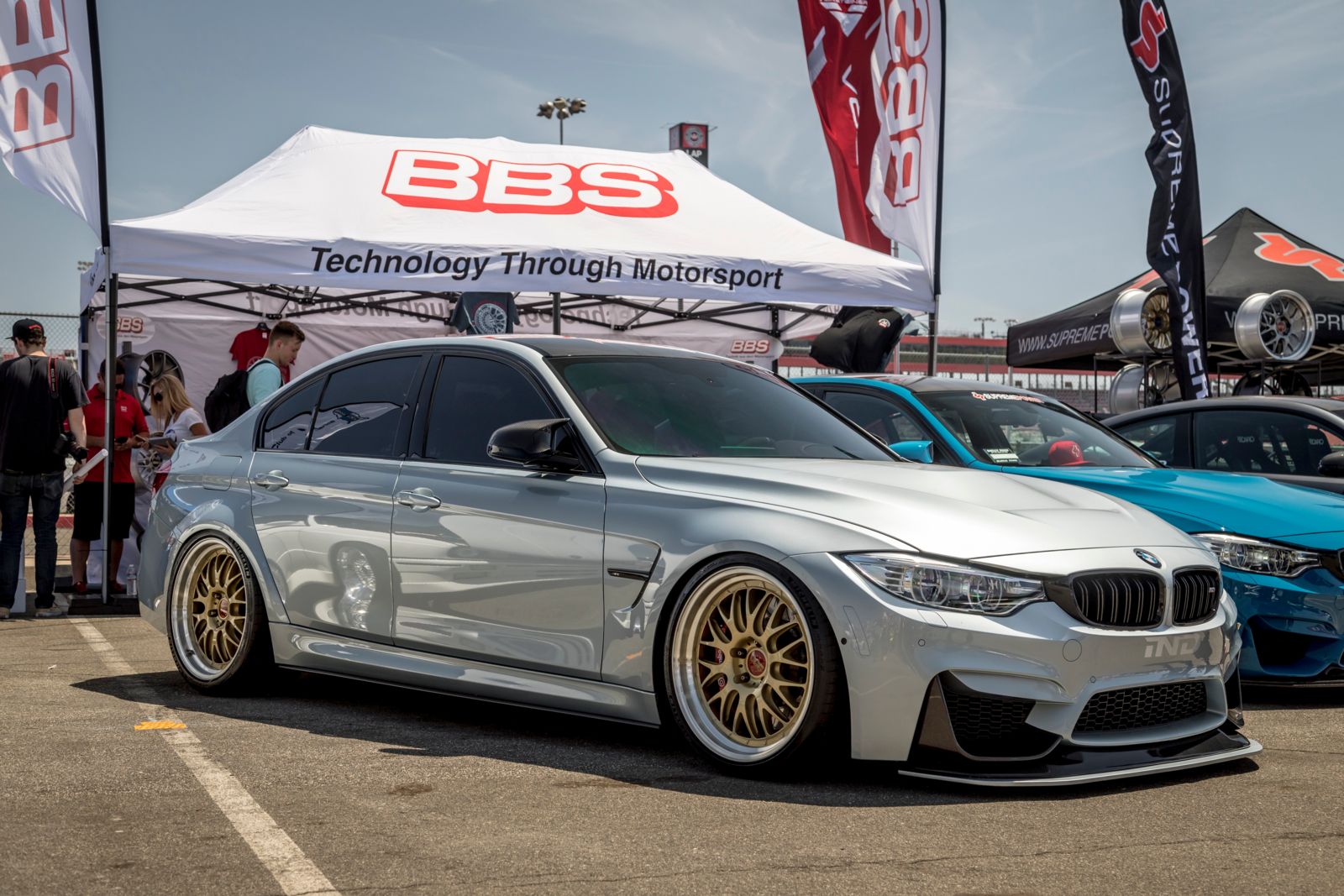 Thanks to the loyal support of IND Distribution and Supreme Power we were able to get these fine cars to display at Bimmerfest.
Leading to, and during the show there was media coverage by local TV stations and other news media. There was a lot of media activity at the BBS booth both days. Click the link to check it out. http://ktla.com/2017/06/02/bimmerfest-2017/
Bimmerfest was a great success for BBS and we look forward to participating in the upcoming 2017 Bimmerfest East and the 2018 Bimmerfest shows.
Here are some highlights!