BBS TEAMS UP WITH PIT&PADDOCK AT SEMA
February 14, 2022
PIT+PADDOCK X MEGUIAR'S SEMA SHOW ULTIMATE BUILD
During SEMA 2021 BBS of America teamed up with Pit + Paddock along with Meguiar's to participate in the SEMA show ultimate build.
This idea started about 6 years ago when RJ de Vera and Sam Du had a conversation about how enthusiast car builders and grassroots shops are often overlooked when it comes to being recognized at the SEMA Show. The SEMA Show traditionally hosts competitions like "Battle of the Builders" that award hot rod owners and builders with unlimited budgets, but the project cars that are most relatable to the sport compact, Japanese, and European realm of the aftermarket world go unnoticed. Because of this, RJ and Sam came up with the ultimate build where they would nominate the three best home/Garage-built vehicles of the show, gift these builders with dope prizes, then publish their story for the world to see. With last year's launch of Pit+Paddock, it was only fitting that RJ and Sam kept this tradition alive, so the inaugural "Pit+Paddock X McGuire's SEMA Show Ultimate Build" was born.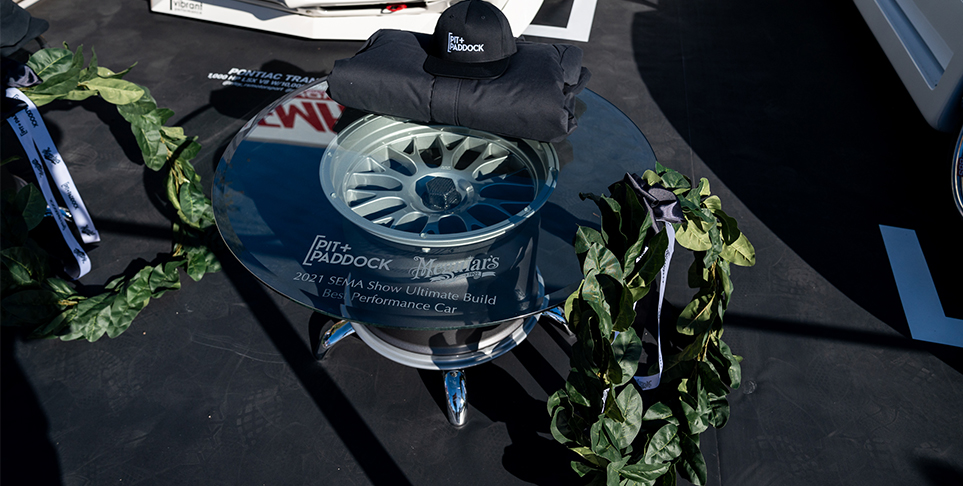 BBS COFFEE TABLE TROPHIES
As mentioned earlier about prizes, Sam and RJ were stoked with what they came up with for the first year. Inspired by ceremonies in the highest level of motorsports, they created wreaths for the winners with Pit+Paddock and Meguiar's branding on the ribbons. In addition, the winners would be gifted Porsche Design jackets with Pit+Paddock logos embroidered on the sleeves. The cherries on top were bespoke glass coffee table trophies built by Eric Plebani. The glass was etched to depict the details of the award, while the 18×14.5-inch forged magnesium wheels for the coffee table bases were sourced from BBS of America's secret storage facility. According to BBS, the wheel model is called "RE738", and they were actually used in competition by a Panoz LMP team in 2005. They've been collecting dust for the last 16 years, so we were happy to take them off their hands and put them to good use!
BBS is proud to have been able to contribute to this inaugural competition.
AWARD CRITERIA
The criteria for judging were not based on a points system, how many parts the car has, or how much money has been dumped into it, but how it all comes together in the end. The conversations leading into setting up the judging criteria were discussed amongst Sam and his team and touched on questions like, "Has a build like this been done before, or is it unique enough? Is the build concept well thought out and executed properly? Do all the components mesh together well? Does it 'wow' you and leave a lasting impression? These types of questions were asked when evaluating a build and guided the judges to determine a winner rather than using what a scorecard would tell them. In the end, the judges chose the cars deserving of the prizes from their hearts.
Needless to say, there were some amazing entries. To see the winning cars and participants, Sam and his team at Pit+Paddock have a complete feature with a lot more detail on the Pit+Paddock website. To read the full article click here. We look forward to future collaborations on applicable projects with Pit+Paddock.