About BBS:
BBS was founded in 1970 by Heinrich Baumgartner and Klaus Brand in the town of Schiltach located in the Black Forest of Germany. The founders of the company were amateur racers looking for performance gains on the race track. Fiberglass body panels were initially developed as a way to reduce weight, then the focus went to reducing unsprung weight with the development of an innovative three-piece racing wheel. This strongly positioned the company in the motorsports sector gaining the attention of factory racing programs including BMW. The company continued to expand steadily and also added road wheels to the program. In 1983, the original 3 piece "RS" design wheel was launched and this design is still an icon in the wheel industry today. Performance and technology remain as the driving force inside the company. "Technology through Motorsports" is still the BBS moto.
Today, BBS is not just a small company located in the Black Forest region of Germany. BBS has a worldwide presence and we design, test and manufacture all of our own products and technologies.
BBS of America, Inc. - Braselton, Georgia
BBS of America was established in 1983, today our North American Headquarters is located in Braselton Georgia, adjacent to the famous Road Atlanta race track. The primary functions for the 50,000 square foot facility is for the sales and distribution of BBS aftermarket products, sales and service support for BBS racing and supporting special OE/OES programs. The staff at BBS are experts in the wheel industry, with some having over 25 years of experience with BBS products. The BBS Motorsport Department supplies wheels and trackside service to virtually every major road race series in the US. For over 30 years, BBS has provided race support for up to 25 major sports car events each year, including IMSA, Indy Car, Grand Am and Trans Am.
BBS GmbH - Schiltach, Germany
Deep in the Black Forest of Germany, Schiltach remains as the headquarters for all development, testing and sales for BBS aftermarket and OEM products. The foundry is also located in this facility.
BBS GmbH - Herbolzheim, Germany
Herbolzheim is the machining and painting facility for all aftermarket and OEM products. Located adjacent to the autobahn, it's location allows for easy dispatch of products to our customers worldwide.
BBS Motorsport GmbH - Haslach, Germany
The BBS Motorsports Department is located about 20 kilometers from Schiltach where it all began. The Haslach fatory is an efficient high-tech facility focused on the design and production of all racing and specialty high-end forged products.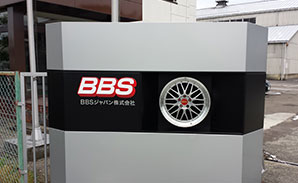 BBS Japan - Takaoka City, Japan
Located in Takaoka-City, BBS Japan creates the forgings for all of our forged road and racing wheels. Hydraulic forging presses up to 9000 tons are used to produce the forgings that will become a BBS wheel. Back in 1983, this facility produced the die-forged "RS" design wheel that is still an icon today.
Classic BBS wheels like the LM, Super RS, LM-R, RS-GT and RG-R are designed and produced in this facility along with OEM products and a range of other aftermarket wheels.